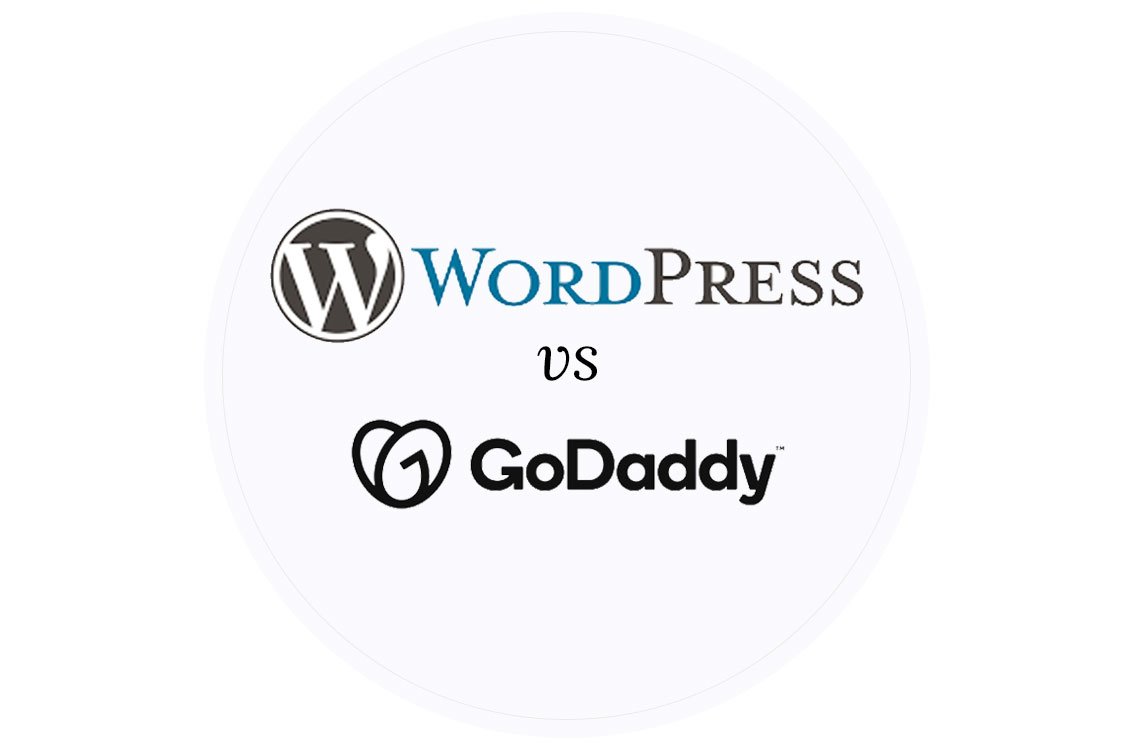 When you consider shaping your business online, website launch pads GoDaddy and WordPress are two names that most people will recommend to you.
GoDaddy has earned its repute by providing comprehensive web services ranging from web hosting and domain registration to website selling and more recently, a template-based website builder.
WordPress is another online tool trusted by millions of users for crafting a variety of websites. The latest WordPress versions come with a native page builder and there are certain themes and plugins giving users access to even more advanced page building tools.
To help you choose the better and more user-friendly website app, we'll compare the key features of these two:
AFFORDABILITY
Let us start by talking about what may be the first thing on your mind – the price you need to pay for their usage.
WordPress is free, open-source application that you can deploy on practically any web host. From a blogging software in its early days, it has now evolved as a full-fledged content management system (CMS).
Its plans are targeted at personal blog site owners and small enterprises that prefer a simple and all-in-one website building solution. The site has a free hosting plan and four paid options. With the rise of fee, the features and offered storage space increase.
In contrast, GoDaddy is not just about website building, but a suite of solutions that website owners typically require. While using it, you will have to purchase a domain name and hosting.
You can then develop the website using GoDaddy site builder. However, there are no free plans. Also, while the pricing of its plans starting at $ 5.99 seems to be "just a little more expensive" than WordPress' Personal $4.00 plan, it is only a one-time discounted fee. The rate increases to $8.99 for the next renewal.
SITE BUILDING
In developing a website from the scratch, website builders assist at organizing page structures, content and appearance.
WordPress is more feature-rich in this case and all its hosting plans provide a free site builder, enabling you to design your webpages and assemble the entire platform without advanced programming skills.
Using WordPress themes, you can modify the layouts of your pages to customize them as creatively as you prefer. The final results compensate for a steep learning curve (that most users blame WordPress for). Indeed, it can be pretty engaging to experiment with WordPress themes till you get the look and feel that will highlight your brand most effectively. Such extensive customization is not feasible with GoDaddy's websites yet.
Although web development feels simpler with GoDaddy, it comes at the cost of low flexibility. The website builder offers relatively less of template choices and you cannot change your page layouts and designs in ways that are feasible on WordPress.
WEBSITE SECURITY
Cyber-attacks are the biggest threats for any online business. Even if you do not need an e-commerce platform and maintain your website purely for marketing, it will get traffic only if it is secure.
All popular web browsers now warn visitors when they are about to land on a website that lacks SSL protection. Therefore, having the 'https' prefix is essential to make your portal professional.
WordPress provides pre-deployed SSL certificates to all its sites – including the ones built under free plan – to secure visitors' connection with the hosting server. It also offers automatic updates and backups to protect websites' content. If anything goes wrong, you can just draw the missing portions from the most recent backup.
While GoDaddy does boast of effective security measures including continual monitoring and DDoS protection, its less costly plans do not come with complimentary SSL certificates. You will need to purchase them if you are opting for the Ultimate plan. For further security on any GoDaddy site, you will have to consider buying separate security plans.
LOADING AND UPTIME
Website performance, which is about the loading speed of pages and the server uptime, depends essentially on the host. And in terms of these factors, even little variations matter.
Any downtime on your website can prompt leads and customers to check your competitors' portals. It is not only visitors who prefer webpages to load in seconds but Google too makes performance a parameter for its rankings.
WordPress gives clear information about its speed and servers' uptime and those are similar to GoDaddy's. On its support page WordPress mentions that downtime is very rare and users get duly notified of both sudden downtime and planned maintenance. With its widely distributed server network, seamlessly reliable hosting is guaranteed, even if a few servers go down.
While GoDaddy does promise 99.9% uptime for its websites, the rate is nothing unusual because even 0.1% downtime can significantly impact customer experience. A study by Hosting Facts found that uptime for websites on GoDaddy's lowest priced plan had been stable at about 99.7% over two years. The study also revealed that page speed on GoDaddy websites is comparable to other hosts. The load times on an average are around 500 milliseconds.
SEO
WordPress platform has integrated SEO features. It generates title tags and meta descriptions for all your webpages and posts them automatically. This helps in informing Google and other search engines about your page content. The page will then be indexed in related online searches and with some manual optimization they can also move up in rankings.
Moreover, WordPress' online tools and plugins provide advanced features for SEO. The most popular ones in this category are Yoast SEO Plugin and All in One SEO Pack.
Although GoDaddy website builder does come with SEO features to help you rank your site in search engine results, they are rather complicated to use when compared to WordPress. As an example, it has its 'SEO Wizard' that tells you to change certain headlines, keywords, alt tags and other settings, wherever necessary. Conversely, WordPress completes most of these tasks on its own.
SUMMING UP
On the whole, GoDaddy site builder is a software that functions smoothly. However, it is not an ideal platform for publishing and updating content regularly. Even though you can upload posts and articles on it, the feature feels like it was deployed as afterthought. Therefore, while building a static site is easy, uploading content frequently is not a user-friendly process (although you do need to maintain an updated blog section for SEO rankings).
WordPress is a better tool for content management. It lets you update your pages and add articles, news and sales promotion offers instantly. It also has better quality of plugins for page building and creative themes. WordPress gives the website that you plan to use for long-term.
At Luminary Software, we make it even simpler for you to gain maximum ROI from your WordPress websites. With our team's expertise in this CMS platform's integrated and third-party tools for website building, you will get a customized site that creates your online brand identity in best of aesthetic and functional forms.
We ensure that navigation on your WordPress site is a breeze, and you as an admin have the liberty to upload any new content effortlessly with a quick login.
Call us directly or send a message to know more about WordPress website development solutions.